Learn How To Double, Triple... Even Quadruple Your Pest Control  Business Without Spending A Fortune On Marketing & Advertising!
My ONE TIME OFFER of a FREE Month's Group Coaching
Membership Makes All The Difference.
Watch Video & Read Testimonials Below!
(TURN UP THE SOUND TO HEAR!)


(The link to your book is at the bottom of this page, but watch this video FIRST!)
"Two years ago I was working for a large national pest control company in management. I really wanted to be in sales but had no idea how to sell. I struggled for years trying to sell but had very little success. Then I stumbled across Hal Coleman and everything changed.  I purchased (with my own money) his Pest Control Marketing Workshop Library course and began listening to what he had to say…and I started applying his strategies and techniques.  Now…fast forward 18 months. I have moved out of management and become the top sales person in my branch. Last year I sold over $100,000.00 in termite and pest control.  It has totally changed my life. Now I love selling because I know how to do it and make it fun…and effective. I will forever be grateful to Hal. If you want to learn how to sell…you need to get his Pest Control Marketing Workshop program now!" Danny Jaso, Richardson, Tx. 214-998-5101.
This is a ONE TIME OFFER to Join Pest Control Marketing Gold
and FREE Admission to our Next Level PCO Marketing February Event!

Once you leave this page, this offer is no longer available to you.
Before you turn down my ONE TIME OFFER, please take a moment to read the testimonials below from some of my clients and you will see that I am serious about how much this training can help you! (Feel free to contact them. I'm sure they will be happy to talk with you.)
Here's what you get instantly when you join
TRAINING LESSONS
12 Psychological Buying Response Triggers GUARANTEED to get you more clicks, more phone calls and more new customers from your website, videos, ads, sales presentations, door hangers, flyers…even your business cards.
Picking Up Strangers – Learning how to market to total strangers is the key to growing your business.
Why Blogging and Podcasting is so important…and powerful…for getting new customers.
WordPress – Why you should definitely use it.
Mirroring & Matching – How to use this age old PROVEN psychological strategy to win friends and influence people…especially prospects and new customers.
10 BIG WAYS PCOs Lose Money (day after day, month after month and year after year)
Best Practices from Hal

Best Practices from Mike
Thirty Second Selling: "How To Get Anyone To Say YES In 30 Seconds Or Less!" This one module will blow you away with it's POWERFUL EFFECTIVENESS…and it's AMAZING SIMPLICITY! Learning this one technique will change the way you sell for the rest of your life!
How To Double Your Business In 12 Months Or Less! This module is all about how to get more referrals from your current customers much EASIER and FASTER!
10 BIG WAYS You Lose Money(day after day, month after month and year after year)! What you are doing wrong both online and offline that is costing you a fortune and you don't even know it.
46 Proven Strategies GUARANTEED To Bring People To Your Door Ready To Do Business With YOU! Easy-to-implement strategies that work. You can start using these today. (You're probably already doing some of them…but not all!)
9 Surefire Ways To Make Your Customers Fall In Love With YOU (and refer you more often)! How to make your customers want to TALK ABOUT YOU all over town!
Secrets Of The Networking Ninja – The 6 Tools and 10 Strategies of a Networking Ninja! (How to become a Master Networker in your community) Learn how to easily turn total strangers into lots of PAYING CUSTOMERS!
Recordings of 2019 and 2020 NextLevelPCOMarketing events,
PLUS…here's what you continue to get for as long as you are a member!
Live Monthly Group Coaching Sessions
Hot Seats – You can volunteer to have your website, vehicle, sales presentations, or any other marketing materials reviewed by Hal & Mike live on the group coaching call.

And if you're too shy to ask a question on the live session, you can post your question in the private members group and one of us will answer it there!

New Training Sessions added on a regular basis –
 FREE TICKET to The Next Level Pest Control Marketing Workshop held online in February 2021 ($997.00 value) Must be a member in good standing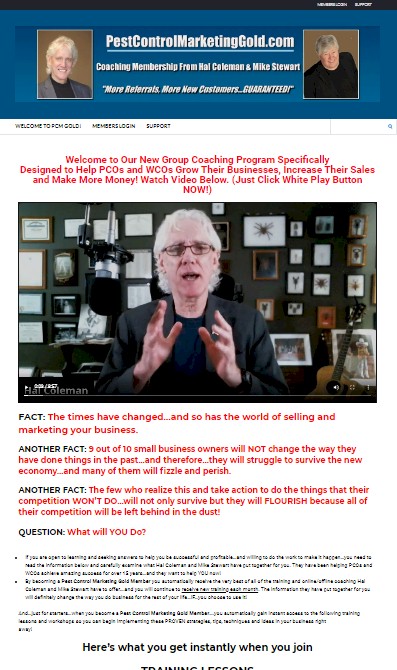 "I've only been in Hal Coleman's coaching program for two months and it has already paid off. In our first coaching session he gave me a short sales script to use when I talk with a prospect on the phone. I have used that script quit a few times and have not had one single person say NO. I look forward to each session because I know I will come away with more great ideas that I can go right out and use to get more new customers!"
Michael Wienecke, Peskies Pest Control, Birmingham, Ala. 205-470-8161
"My name is Mack Glover and I'm the President of Arrow Pest Service in Panama City, FL. I have been working with Hal Coleman for 1 one year and we have seen a 65% increase in our sales revenue since we have started. I made up my mind that I was going to do whatever he instructed me to do (no matter how CRAZY it might sound) and it has paid off in a BIG way. The return on our investment with Hal is definitely worth it, I DO NOT regret one penny of it. Hal knows what he is talking about, so just do it. You WILL Not be disappointed, I promise. Hal is very professional and amazing to work with and I always look forward to our weekly meetings, so much so that I've signed up for another year. Please feel free to contact me anytime about Hal's coaching program."
Mack Glover, president - Arrow Pest Service, Panama City, Fla. (850) 874-1900
"This past year I hired Hal Coleman to coach me on how to market my pest control company.  I'll have to admit, I thought he was a little crazy at first.  But I did what he told me to do, and it has led to new sales and new customers, just like he said it would.   If you want to know how to get more new customers for your pest control business, you definitely need to get Hal into your office ASAP and let him show you how.  I will difinitely be using his services in the future!"  Fred Talley, President, Faith Pest Control, Talking Rock, Ga.        770-823-9202
"This year I signed up for Hal Coleman's annual coaching program and had him come to my office and meet with my 9 technicians and show them how to generate referrals from our current customers. Up to that point, they seldom if ever brought in any referrals. Hal spent a half day with them teaching them his simple, no-brainer referral generation strategy. Well, that was exactly 12 weeks ago. And since that time they have brought in a total of 227 referrals which have resulted in 65 new sales totaling a little over $36,500.00. That is an average of over $3000.00 per week, which will be over $150,000.00 in new sales this year just from what he taught us. That one thing alone has made his coaching program a great value to me…and I know there is a lot more to come!"
Erik Gardner, Volunteer Rid-A-Pest, Cleveland, Tn. 423-472-7736
"I joined Hal's Program January 2019 to help grow business. It has only been 3 months since I started with Hal and we have increased our sales revenue by 30.37% . It been great thus far and I'm really enjoying the time I spend going over strategies with Hal, (it's fun & the results are great) We have implemented just only a few of the strategies Hal has shared with me in the past 3 months and it really works. I would recommend Hals program to any person wanting to grow their business fast!"
Daniel Hickey - Owner/Director, Safeguard Pest Control, Queensland, Australia +617 5477 6675
"Whoever said you cant teach an old dog new tricks hasn't met Hal Coleman. I've owned my pest control company for over 30 years and not only has Hal taught me a whole new approach to growing our business but he's rebooted my enthusiasm. Oh, and by the way, my employees average 15 years with the company and they all feel the same way after our full day seminar with hal. It has been a great investment to work with Hal. Thanks Hal!"
John Kaiser, President, Island Pest Control, Hilton Head Island, S.C. 843-681-5188
"When Hal told me how I should re-design my company vehicle, I was a little skeptical of his "Big & Outrageous" concept.  But, I went along with it and got the vehicle re-done. And, 5 days after I got it done, I got my first new customer from it. The lady called and said she saw it on the road.  And I notice people can't stop looking at it!"  Thanks Hal.  Glenn Laney, president, Ennis
After being in business for myself for 2 ½ years, I have spent about $2400.00 in coaching/ consulting fees with Hal Coleman.  And that included building my new website and blog. I spent an additional $2000.00 on my truck wrap (based solely on what Hal told me to do).  And what has been my return on that investment?  I can tell you that my website and my truck have generated approximately $80,000.00 in new sales just in the past 18 months!  If you want more new customers, you need to call Hal Coleman and let him help you.  It will be the best time and money you will ever spend on your business." Mark Hunter, Landmark Pest and Wildlife Solutions, Macon, Ga.  478-972-4357
"Working with Hal has been one of the best decisions I have ever made for my business. His knowledge of different ways to acquire new customers is amazing. My website has become a powerful marketing and sales tool thanks to the help from Hal Coleman. I look forward to every meeting with him and I would recommend Hal Coleman to anyone looking to take their business to the next level.  He is truly a master of his craft". Dan Nielsen, Genuine Pest Control, Omaha, Nebraska - 402-619-4424
"Hal Coleman is my coach. He advised me to attend a trade show this past March.  He told me exactly what to say and wrote the promotional letter for me to hand out to vendors.  He also coached me on how to follow up with the leads I generated. In the past 90 days since the show, I have sold approximately $50,000.00 in new business from that show…and the leads are still coming in!"  John Taylor, Commercial Pest Management, Phoenix, Az., 623-299-5340
"After working with Hal Coleman for a little over 6 months, we are growing at a rate roughly 3 times what we have done in the previous two years."  Bill Stewart, NatureZone Pest Control, Phoenix, Az. 602-476-1088
"Whoever said you can't teach an old dog new tricks hasn't met Hal Coleman. I've owned my pest control company for over 30 years and not only has Hal taught me a whole new approach to growing our business but he's rebooted my enthusiasm. Oh, and by the way, my employees average 15 years with the company and they all feel the same way after our full day seminar with Hal. It has been a great investment to work with Hal.  Thanks Hal!" John Kaiser, President, Island Pest Control, Hilton Head Island, S.C. 843-681-5188
"I've only been in Hal Coleman's coaching program for a little over a month and I'm already seeing some amazing things happen. He told me exactly how to change the home page of my website and incorporate certain psychological buy buttons to capture and hold a new viewer's attention. I did exactly what he said and my bounce rate has gone from an average of 80% to down below 10%! They are staying on my website site from about 17 seconds before to now about 2.5 minutes now!" John Byrd, Byrd Pest Control, Patterson, Ca. 209-892-2973
"When I first heard Hal's vision for my company's growth, I did not believe it was possible; at least not as quickly as it has taken place. I stepped up and jumped in with both feet. And boy I'm glad I did! My business is growing out of control. I was nervous as I hired one new employee, but really needed two! And Hal says this is just the beginning. Wow! If you want your business to double, do about half of what Hal tells you to do, but if you want it to explode…  Do it all! If you would like to hear more about my experience with Hal, please give me a call and I'll be happy to give you more information." Tim McWhirter, Canton Termite and Pest Control, 770-479-1598
"I have been working with Hal Coleman since January 2014 and have gained a vast amount of knowledge from his coaching program.  At first I was skeptical about how much I would learn, but after the first lesson I knew it was a great investment.  We have begun to implement Hal's recommendations and are projecting a 30% growth in sales this year."  Tommy Casselberry – Green Seasons Lawn and Pest Control, Baton Rouge, LA 225-752-2333
"Hal's consultation with me today was priceless. Don't let his folksy delivery fool you. This man is SMART and he "gets it". I came away with tons of ideas I could use as soon as I put the phone down. And I did!! Thanks Hal!" Doug Foster, Burt's Termite & Pest Control, Inc., Columbus, Indiana  (812) 372-3212 
"I have worked with Hal for only four hours of time so far and already it has paid off.  He has me thinking in a whole different way. After our first meeting I put two of his ideas into place.  Four days later I had a lady call our office and thank me for what we had done for her and turns out she was the person that handles the purchasing for her company and it turned into a $20,000.00 sale and new account. The thing about working with Hal is that if you listen and take good notes you will have all the tools you need to be successful. He presents selling in such a way that you can't help but see why it works. It definitely will change the way you sell.  I'm a customer for life!"  Chris Schneider – Turf Gator Lawn & Pest, Lebanon, Illinois – 618-233-7600
"I can honestly say that the single most valuable thing I have ever done to grow my business was hiring Hal Coleman as my coach.  He has a way of making things seem so simple and, when you do them, they work.  He has given me the confidence to know that I will always be able to go out and get new customers and generate more referrals in my community.  If you are serious about growing your business, you should call Hal today and enroll in his coaching program.  It will benefit you for the rest of your life!"  Joanne Newell, Center for Energetic Healing, Roswell, Ga. 678-744-3257
"When I first started working with Hal, "I didn't know what I didn't know", If you feel like you're struggling with your marketing, just sign up for a one hour coaching session with Hal and test it out.  I can assure you that the value you get from that one session will come back to you in ideas that will make you multiple times what you paid for that one hour of your time.   I'm happy to be a client of Hal's"  Patrick Bruner, APM Advanced Pest Management, LLC. Shelbyville, IN (317) 402-5291.
 "Working with Hal has made our staff a more focused and determined "Team". Sometimes in today's business climate we have little time to pay attention to the numerous details that can help a company grow. Hal brought those details together and presented them in an easy to understand manner that helped not only me but our employees set our goals for the future. With larger items, both known to me and not, Hal placed before us a path the company could follow for now as well as for the future.  My pride sometimes wouldn't allow me to agree at times but try Hal's ideas anyway and you too will not be able to deny the results!" Tim Green, Green's Exterminating Co., Inc. Nashville, TN (615) 889-0869
"Mr. Coleman, thank you for the very positive coaching session we had last Saturday.  I am already putting in practice some of the information and tips that you shared with me and seeing good results right away.  I'll be in touch in the near future!"   Eli Tella, Elite Pro Termite & Pest Control, Brownsville, Tx.  956-544-7371
"I started working with Hal in April, 2014 and it has been a great learning experience!  I am always looking forward to the next session.....because I know it will be a shot of energy! If you want to increase your sales, call Hal.  Much appreciated. Thanks Hal."     Mike Reed, Rhino Hide, LLC, Eaton Park, Fla.  O. 863-665-0203
"Hal already has a thousand great ideas and he constantly comes up with more.  Just do what he says, don't do anything before talking to him about it and you will be a successful business owner.  It doesn't get any easier than that."  Jon Fulsom, J & L Termite and Pest Control, Owasso, Oklahoma,  918-798-8690
 "Hal, with much consideration, contemplation and consummation of what entered my brain today, I can't thank you enough for your time and knowledge in giving us the tools to become successful. I absolutely will look at my approach differently and for the better. I look forward to working with you in the future. I very much appreciate your no nonsense and honest approach in helping folks realize just a better way to communicate. You're a gem of a gentleman, and I thank you." J. Deron Lewis - Rhinohide, LLC - Lakeland, Fla. 866-347-4466
"Within a short period of time Hal Coleman had me perfecting my marketing message that will allow me to blow my competition out of the water. Thanks Hal!"   Bret Burgess, President & Entrepreneur, Burgess Development Group Inc.,  Fairfield, Missouri
 " Hal, You may remember that Dena and I attended your seminar last fall.  And, we invited you to our company to do a management session recently. I greatly appreciate your help and your continuing efforts to help us.  Every dollar I have spent on  your advice has been an incredible bargain for us.  And, I have used lots of consultants over the years.  I will be in touch for future help and advice."   Jeff Annis, Advanced Services, Inc. Augusta, GA., Martinez, GA., Aiken, SC.  706-860-0116     
"I learned more about selling in a few hours with Hal than I had learned in a
long time.  I also relearned some things I used to know.  Its not rocket
science...it is work...smart work and that is what I am doing
differently now-working and selling smarter."  Gary Snodgrass,  Green Mountain Pest Control, Cleveland, Tenn. 423-331-8461
"Hal, Thank you for the recent conference calls. Joe and I found them to be extremely helpful in understanding the pest control marketplace. We also found it very insightful from a psychological sales point. We plan on using your services now and into the future. We would also like to have you as our key advisor going forward. Hal, thanks again for your help."    John Mulcahy, Norman Pest Control, Walpole, Ma.  508-668-6829
"Hal,  I wanted to thank you for your coaching and all you've taught me. My mind is going crazy and I can't stop thinking about my advertising and marketing efforts. You have me thinking in a completely different way, you've made it exciting. I wish I would have met you years ago!!!  Thank You. Eric Smith, Termite Lawn and Pest, Inc. Orlando, Fla.  407-408-5315
"I recently started a pest control company and needed new ideas for marketing. I found Hal Coleman online and something told me to give him a shot. After my session with him today, in just a couple of hours I now have tools that will benefit me on all aspects of marketing. He exceeded all my expectations."     Ceasar Rios, H T Pest Control, Natalia, TX 210-843-1992
"I booked one day of coaching with Hal Coleman and I can honestly say that I got my money's worth during the very first hour we spent together.  I received so much powerful and useful information that I was blown away by it.  He certainly lived up to his reputation of over-delivering on everything he promises.  I would tell you that, if you want to learn how to get more new customers and grow your business, you need to book a day with Hal.  It'll be a day you'll never forget.  I can tell you right now that I will be spending more time with Hal in the future!"  Mark Hunter - President, Landmark Pest  and Wildlife Solutions, Macon, Ga.  478-972-4357
"I have come to know and trust Hal Coleman over the past several years. I have benefited on many occasions from his sage counseling and advice. Hal is a great communicator and has a unique ability to assess complex business situations and pass on clear, distinct, and creative ideas for me to consider." Chris Wescott – Sales Consultant, 770-823-5656
"I was having a slow year and decided to advertise in a local community magazine.  Hal Coleman told me 5 things to do to my ad that would cause people to call me.  At first, I thought it was pretty outrageous stuff.  It went totally against what other advertising agents had told me.  But, I listened to Hal and designed my ad according to his instructions.  Well, all I can say is…I got slammed with so much business I couldn't handle it all.  We were working 7 days a week for awhile, just from calls coming in from that one ad.  If you listen to Hal and do what he says, you will get more customers. (This is not the first time I have used Hal as a consultant, and it has paid off every time!)"  David Garland, President -Garland Services, Inc., Douglasville, Ga.,     678-414-7798
"This past year we hired Hal Coleman to teach our service professionals a simple strategy for generating leads from total strangers on the street, and additional referrals from our current customers.   Over the next 60 days, using his technique, we generated 300 new sales, which resulted in over $80,000.00 in additional income.  Thanks Hal!"  Greg Vines, Regional Manager-Allgood Pest Solutions, Dublin, Ga.    478-272-6271
"Hal delivered an outstanding keynote speech that far exceeded our expectations.  Everyone raved about his wit, humor, and down-to-earth presentation style.  Hal kept the audience fully engaged and his message was very thought provoking.  We feel confident that his practical insights will add great value to what we do."    Craig Goodwin, Director, Learning Solutions, Rollins, Inc.,   404-877-4600
 "After attending one of Hal's seminars, I made one change in the signage on the side of my truck and the new business I got as a result more than paid for the cost of the seminar.  His stuff works."   Manuel Snipes, President, Azalea City ExterminatingValdosta, Ga.      229-241-9372
"When I became dissatisfied with results from advertising in local telephone directories, I called Hal Coleman.  He came to my office and spent all day with my team, did everything he promised, and exceeded all of my expectations.  Because of his visit we are changing our marketing focus and have already begun to see results from his Direct Response Marketing approach. If you want to know how to get more new customers for your pest control business, you need to call Hal today!"  Ennis G. Laney, President, Ennis Exterminating, Inc. Fayetteville, Ga.  770-716-0867